Four Seasons in a Lost Year
Four Artists in One Venue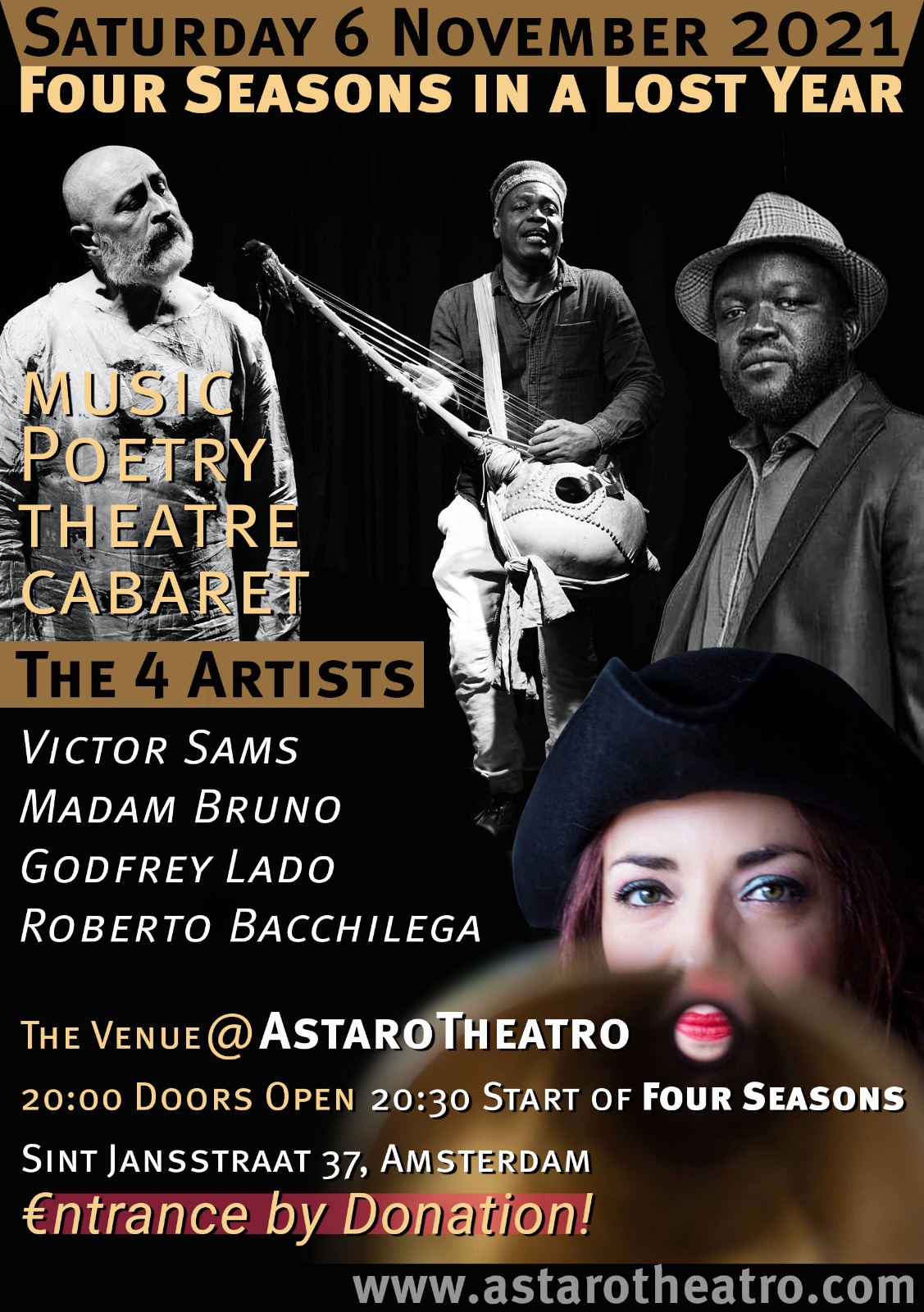 Four Artists come together, carrying their personal and artistic history, ready to share it with the audience of AstaroTheatro.
It's hard to say whether 'Time present and time past' are lost or 'Are both perhaps present in time future'.
What's sure is that Four Seasons in a Lost Year is a much-needed event of renewed community sharing.
We have been distant for too long, now it's time to get closer.
Four Artists (in no particular order):
Victor Sams
Madam Bruno
Godfrey Lado
Roberto Bacchilega
One Venue:
Saturday 6 November
20:00 Doors Open.
20:30 Start of Four Seasons
AstaroTheatro
Sint Jansstraat 37 Amsterdam
Entrance by Donation
Victor Sams:
Victor Sams the singer, multi-instrumentalist was born on Statia a Caribbean island which was also called once upon a time because of its history the Golden Rock. The kamélé ngoni he plays comes from the harp family in Mali which is referred to in West Africa as the mother of harps. His musical story is rooted in a social combination of Caribbean-African music. victorsams.nl
Madam Bruno:
Madam Bruno hails from one of the most historic, cultured, creative and beautiful place on the planet, Napoli in Italy. Coming from a region so diverse and rich in culture, since a child, Madam Bruno took full advantage of her surroundings.
Her pallet of taste and inspirations is vast and matches her experience within theatrical and musical productions.
www.madambruno.com
Godfrey Lado:
From A War Child to Asylum A Refugee, from a Refugee to Assignment a medium of social cultural change and exchange.
Godfrey Lado is a multidisciplinary and a multidimensionally free soul; speaker, teller, poet, singer and a writer.
Roberto Bacchilega:
Performer and artistic director at AstaroTheatro. He presents:
The Want
An excerpt from 'In the solitude of the cotton fields' by Bernard-Marie Koltès
The Dealer is always there to remind you that 'you must want something'. So be aware that you are nothing but a consumer in a consumers' world. Unless you don't want The Want.