A La Muntagna – Up To The Mountain
Friday 10 March, 20:00
Ru Paré
Chris Lebeausstraat 4 Amsterdam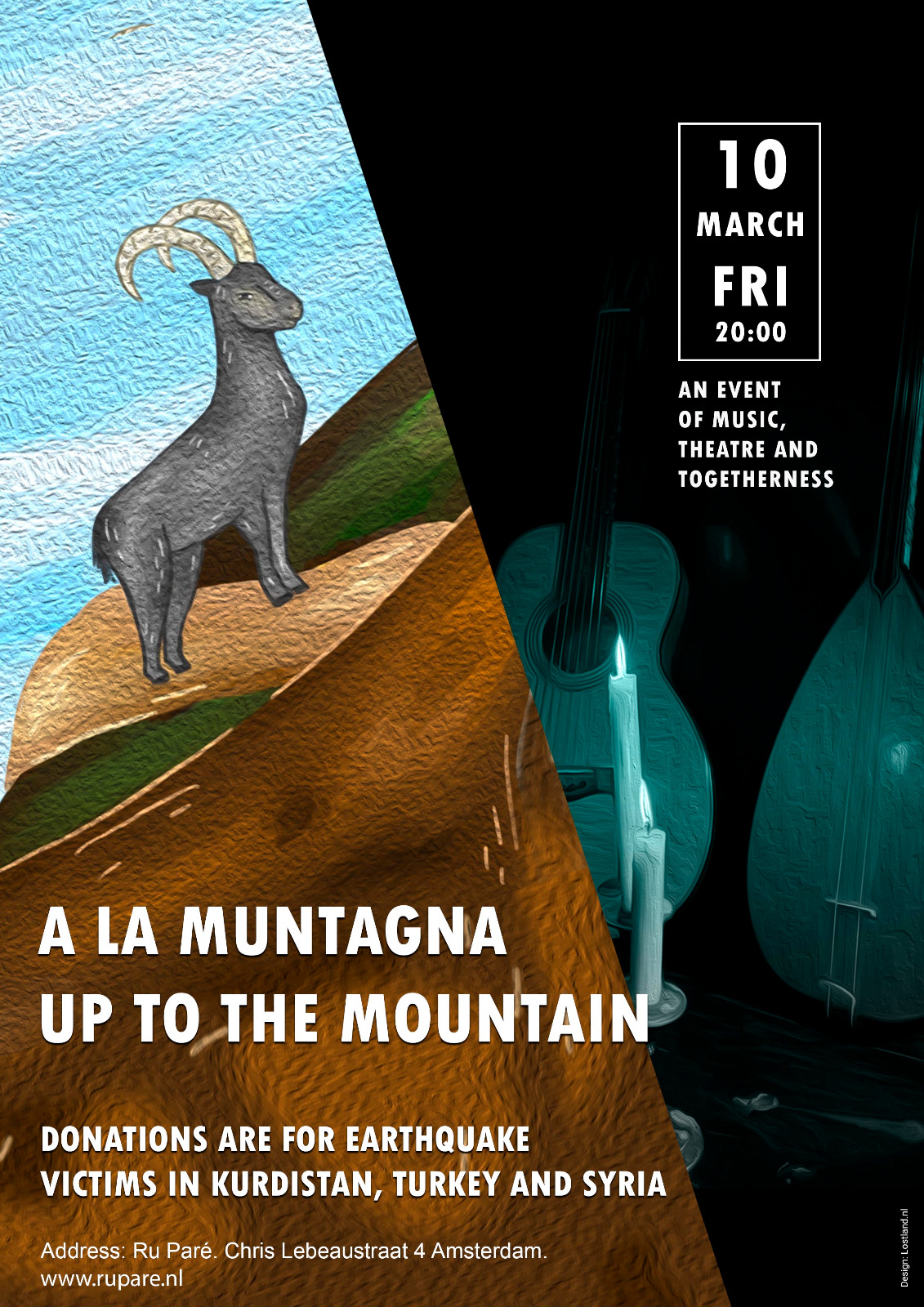 𝙃𝙤𝙬 𝙖𝙧𝙩𝙞𝙨𝙩𝙨 𝙘𝙤𝙢𝙚 𝙩𝙤𝙜𝙚𝙩𝙝𝙚𝙧 𝙞𝙣𝙨𝙥𝙞𝙧𝙚𝙙 𝙗𝙮 𝙧𝙚𝙨𝙞𝙨𝙩𝙖𝙣𝙘𝙚 𝙖𝙣𝙙 𝙞𝙣𝙩𝙚𝙧𝙣𝙖𝙩𝙞𝙤𝙣𝙖𝙡 𝙨𝙤𝙡𝙞𝙙𝙖𝙧𝙞𝙩𝙮. 𝘼𝙣 𝙚𝙫𝙚𝙣𝙩 𝙤𝙛 𝙢𝙪𝙨𝙞𝙘, 𝙩𝙝𝙚𝙖𝙩𝙧𝙚 𝙖𝙣𝙙 𝙩𝙤𝙜𝙚𝙩𝙝𝙚𝙧𝙣𝙚𝙨𝙨.
It all began with a song connecting the mountains of Southern Italy to the peaks of Kurdistan by providing a common ground of resistance and solidarity.
Today this profound nexus of true international solidarity is still the main motivation for artists to come together.
Now we wish to share tales of reaching out to otherness and poems of travelers moving through theatrical routes. And music of course. Lots of music of love, friendship, dignity and resistance against any oppression.
Ru Paré is no doubt the place to be. Our A La Muntagna journey started in this warm and inclusive venue and now naturally it continues there with this upcoming event.
A La Muntagna is all yours again!
𝗣𝗿𝗼𝗴𝗿𝗮𝗺:
𝘼𝙧𝙞𝙭
A song of a daughter to a mother after the earthquake
Harun Turan: Performance
𝙏𝙝𝙞𝙣𝙠 𝙤𝙛 𝙊𝙩𝙝𝙚𝙧𝙨
A Poetry Performance on a prettier road that leads to me, to you and to an abandoned theatre. Inspired by Mahmoud Darwish
Roberto Bacchilega-AstaroTheatro. Performance
Bakr Al Jaber. Performance
Argyris Plekas. Bouzouki
𝘽𝙖𝙨𝙘𝙝𝙞𝙧𝙖 & 𝙍𝙤𝙡𝙚𝙙𝙖
Songs from Italy to Kurdistan. And vice versa
Baschira. Guitar
Roleda. Saz
Savalan Ghodsi. Percussions
A la Muntagna donations are for earthquake victims in Kurdistan, Turkey and Syria.