Renato Ferreira at AstaroTheatro
Thursday 14 July, 20:30
AstaroTheatro
Sint Jansstraat 37 Amsterdam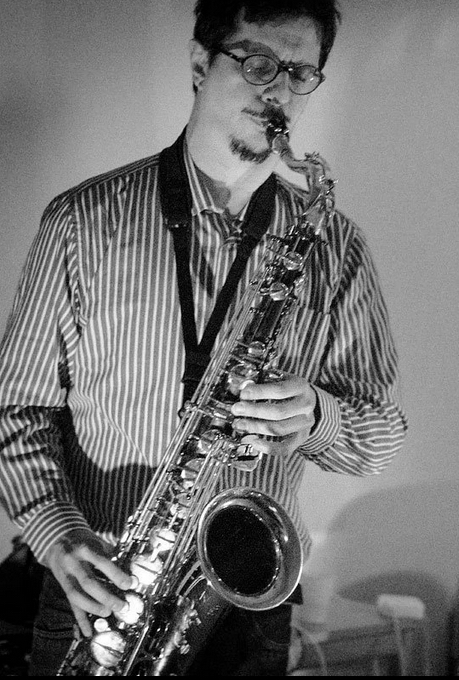 Renato Ferreira is a composer, saxophone and double-bass player, originally from São Paulo, Brazil.
In São Paulo, he was a member of the ensemble of Ricardo Zohyo, a long-term collaborator of Hermeto Pascoal, studying many forms of Brazilian folklore as well as Brazilian instrumental music.
After moving to the Netherlands, he played for many years in the Royal Improvisers Orchestra, together with some of the most exciting young musicians from the improvised music scene in Amsterdam and The Hague. With this group he performed several times at Amsterdam's Bimhuis, including collaborations with Han Bennink, Steve Beresford, Phil Minton and the London Improvisers Orchestra.
Since 2015, he has been leading the Native Aliens Ensemble, a group that combines composition and free improvisation into an explosive mix with roots in traditional forms of Brazilian folk music. The Native Aliens Ensemble recorded a live CD at Teatro Munganga in Amsterdam, released by Trytone Records, and performed twice at the Bimhuis in 2016 and 2017.
He took part in the Music Of Inevitable Sounds, a project by the legendary bass player Luc Ex, joined by pianists Nora Mulder and Veryan Weston a.o., performing in several venues across Europe such as Konzerthaus Vienna as part of the Wien Modern Festival, Teatro San Leonardo in Bologna, Italy, Korzo theater in The Hague and Tivoli Vredenburg in Utrecht, the Netherlands, and Festival Ars Musica at Les Brigittines, Bruxelles, Belgium.
Renato has been an active improviser in Amsterdam since 2010, playing with musicians such as Burton Greene, Anne La Berge, Nora Mulder, Onno Govaert, Michael Moore, Yedo Gibson, Hans Houtman, John Dikeman, Jasper Stadhouders, Saartje van Kamp, Tobias Delius, Wilbert De Joode, Nico Chientaroli, Oene van Geel and many others.
He graduated at the Royal Conservatoire in The Hague, where he studied contemporary composition with Martijn Padding, Cornelis De Bondt and Gilius van Bergeijk among others.
—
Renato Ferreira
http://renatomusica.wordpress.com
Entrance by Donation