A La Muntagna – Up To The Mountain
How artists come together inspired by resistance and international solidarity
An event of music, theatre and togetherness
Same spirit and even more meaningful arts!
Friday 2 June, 20:00
Ru Paré. Chris Lebeaustraat 4 Amsterdam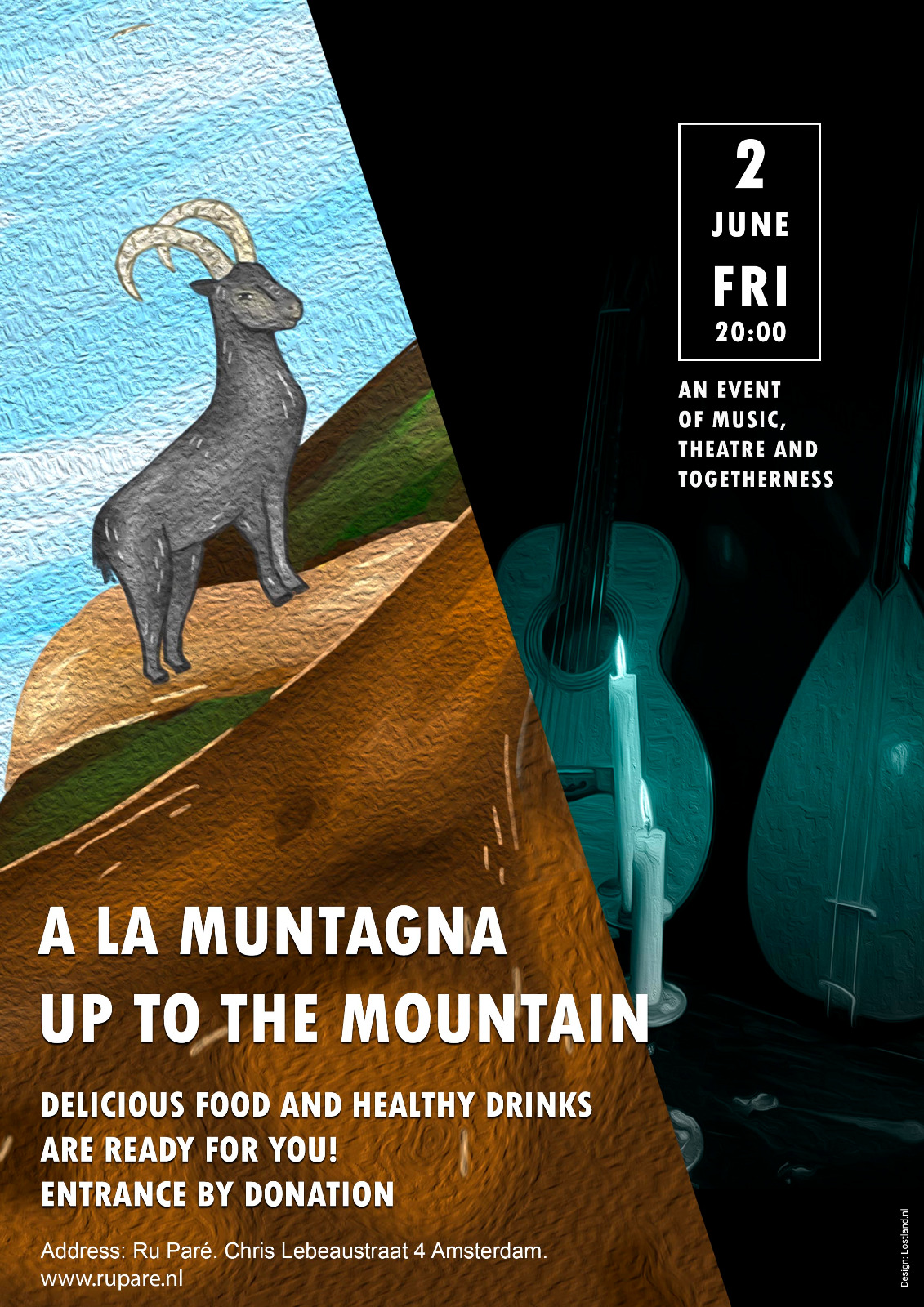 Once upon a time there was a song connecting the mountains of Southern Italy to the peaks of Kurdistan by providing a common ground of resistance and solidarity.
Today this profound nexus of true international solidarity is still the main motivation for artists to come together.
Now A La Muntagna calls to be performed again, for the third time. Same spirit and even more meaningful arts!  We wish to share tales of reaching out to otherness and poems of travelers moving through theatrical roads. And music of course. Lots of music of love, friendship, dignity and resistance against any oppression.
Ru Paré is no doubt the place to be. Our A La Muntagna journey started in this warm and inclusive venue and now naturally it continues there.
A La Muntagna is again all yours!
Program:
Harun plays tunes and songs on the bilur (wind instrument)
Think of Others
A poetry performance and an artistic work in progress of theatre, music and a road to alterity eventually to be found in an abandoned theatre.
Inspired by Mahmoud Darwish, Amal Donkol and by our vagabond souls.
Argyris Plekas. Bouzouki
Betina Abi Habib. Performance
Bakr Al Jaber. Performance
Roberto Bacchilega-AstaroTheatro. Performance
Baschira & Roleda
Songs from Italy to Kurdistan. And vice versa
Baschira. Guitar
Roleda. Saz
Savalan Ghodsi. Percussions
Sipan Sezgin Tekin. Erbane Player
A la Muntagna.
Delicious Food and Healthy drinks are ready for you!
Entrance by Donation. Please bring cash!